NEU-JKF has just opened a subsidiary in Indonesia, which is experiencing strong economic growth with an average annual growth rate of 5%
Having built up the business for ten years through a local office, NEU-JKF has decided to create a subsidiary in Jakarta, PT NEU-JKF Indonesia. This is the first joint subsidiary since the merger of NEU and JKF, which also has a factory in Malaysia. The new entity hopes to take advantage of the dynamism of the country and the Southeast Asian region in general. It has already had several commercial successes.


With a population of 261 million, Indonesia is the world's 4th most populous country. Its booming economy, infrastructure needs, urban densification and the strong growth of the middle class offer important opportunities for companies that are established in the country.
Indonesia is a founding member of ASEAN. In 20 years, it has tripled its per capita GDP (3,876 USD per capita in 2017) and halved its poverty rate. Since 2000, the average annual growth has exceeded 5%. In 2017, Indonesia's GDP accounted for about 40 percent of ASEAN's GDP and Indonesia was ranked the world's 16th largest economy.

France is the ninth-largest foreign investor in Indonesia, where several French companies are leaders in their respective markets.
NEU-JKF has taken full advantage of this opportunity and has already garnered many successes in the region by supporting its large accounts and French and European customers on the ground.
Today PT NEU-JKF Indonesia is also proud to attract big local customers, such as the all-important BOGASARI Flour Mills.

"We are very pleased that several multinationals have placed their trust in us, but now working with local manufacturers is a step further on the road to full integration into the country" says Subsidiary CEO Ola S. Ramlah-Iskandar, Head of a team of Indonesian Sales and Technical Sales engineers.
"Things are looking good for the subsidiary: we are starting the year with a new half-million--euro contract with a major local agri-food manufacturer," says Stéphane Brillet, Chief Executive Officer of PT NEU-JKF Indonesia.

The land area used for Indonesia's agriculture is increasingly significant, and currently represents 30% of Indonesia's total territory.
The industrial sector contributes almost 41% of Indonesia's GDP and employs 22.4% of the workforce. The textile industry, cement, chemical fertilisers, electronic products, rubber tyres, clothing and footwear are the main activities.
In November 2015, Indonesia signed an agreement with the European Union to implement Forest Law Enforcement, Governance and Trade (FLEGT) to combat illegal deforestation through sustainable forest management. Since the beginning of the FLEGT program, Indonesia has exported more than $1 billion of certified timber and derived products to European countries.

There is no doubt that the new subsidiary PT NEU-JKF Indonesia will benefit from the synergy resulting from the merger of two major air treatment entities, NEU and JKF. NEU develops for its customers pneumatic conveying systems applications, ventilation, dedusting, and filtration, while JKF specialises in the manufacture of dust collection equipment and installations for all types of industries. Note that JKF is very well established in the wood industry.

Graphics and images sometimes speak more than words, discover a summary of this information about Indonesian industry on our computer graphics :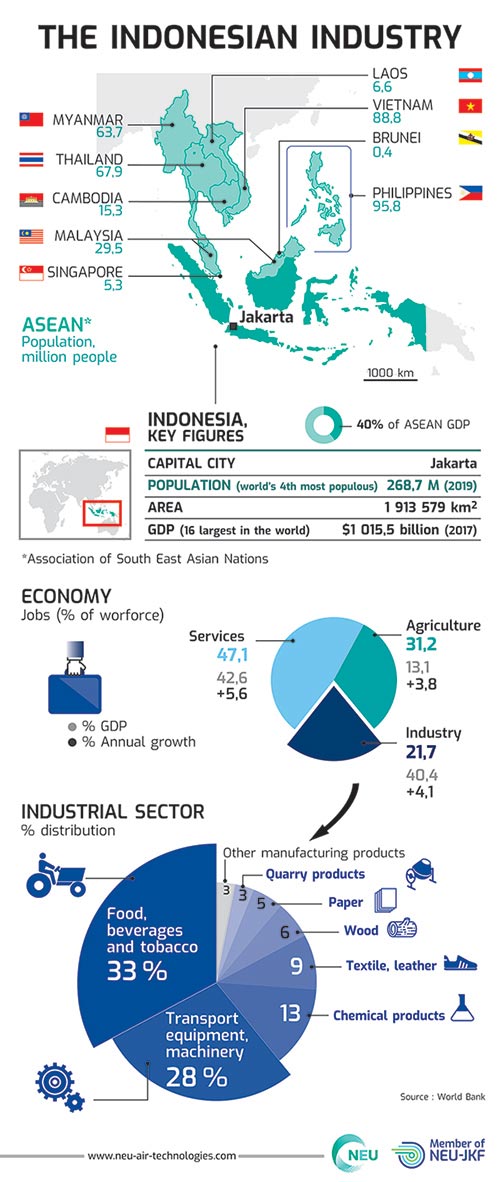 Sources:
Ministry of Economy and Finance
FMI - World Economic Outlook Database