For the first year, the EDF Group Purchasing Department has just distinguished the key actions implemented with its suppliers as part of the Productivity Partnership approach, initiated in 2016 in the Tertiary & Services Domain. A "PPites" trophy was awarded to these exemplary achievements, an optimal combination of cost, quality of service and improved efficiency. It is often innovations that lead suppliers to be able to meet this challenge. In 2018, the 134 partnerships developed between suppliers, specifiers and EDF's purchasing department were analysed and only 10 were selected to receive this award. Among them, Delta NEU with its brand new product for nuclear power plants, CYCLAIR 300 ®.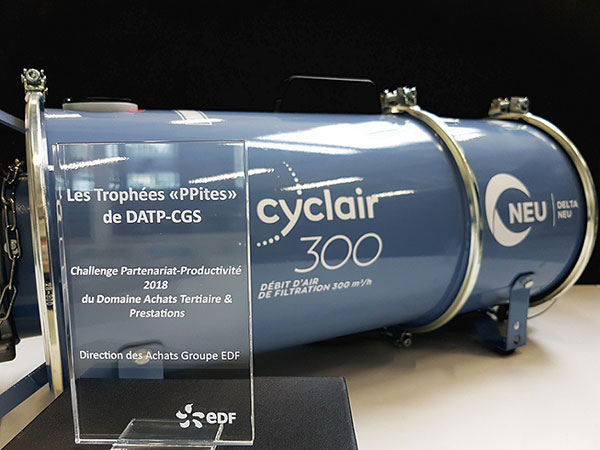 Anchored in compliance with the rules of the contractualization process in force at EDF SA, the Partnership / Productivity approach makes it possible to establish a transparent and fruitful relationship for both the supplier and the customer, by encouraging the permanent efficacité́ and créativité́ in a collaborative spirit. The award-winning advances are not necessarily the result of a revolution but rather a succession of good practices.

With its CYCLAIR 300 ®, Delta NEU won one of the 10 trophies awarded this year out of the 134 partnerships presented. The only award-winning product in the field of equipment and services for nuclear power plants, CYCLAIR 300 ® allows small containment chambers to be depressurized in workplaces where radioelements could be accidentally released and thus more easily protect operators. The key innovation of the new device is to present a very high level of filtration in an exceptionally compact and portable equipment.

In addition to these qualities that immediately won the market over, CYCLAIR 300 ® significantly reduces intervention times and thus meets the productivity challenges set by EDF's Purchasing Department.